Why being poor is better
For too many being rich and wealthy has become the only and pre-eminent goal of life – but in reality most people of the world are poor or at best middle class. Further, many tend to equate happiness with having everything that money can buy.
But when you really assess the advantages of a majority of people – being poor as is the case in the world today – the advantages are staggering.
Now for a reality check – look at the economic realities of being poor and how it helps in macro-economic terms to maintain the financial health of the economy.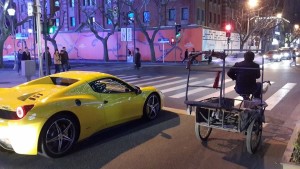 Sustainable economic development – year on year emerging economies continue to outstrip growth of there more wealthier western counterparts. I posit that the main reason for this is that emerging economies use more of there resources to create goods related to food, clothing and housing but the more affluent economies spend their resources on the service industries and the production of luxury goods that are consumed by a privileged few who are wealthy.
Debt driven vs savings/ cash driven growth Western economies are more debt driven as more and more people demand luxury goods on deferred payment terms. Compare this with poorer economies where demand for essentials is based on a cash in hand model that is more sustainable. Poorer economies will benefit from faster growth as the working capital cycle will be shorter as an aggregate due to more cash based transactions. Further we now see that there are limits to an economy growing by using debt as financial systems have tended to buckle under the stress of too much debt not being serviced properly.
Infrastructure investment takes place as a priority in poorer economies as there is an important need to build better facilities for the masses. But in wealthier countries infrastructure is developed based on the needs of the large condominium/shopping mall developers and influential conglomerates and may not be for the best interest of the general public.
Education and health services in poorer countries are available to more people on a more affordable terms than in wealthier nations that have higher fees and difficult medical insurance conditions that most people find difficult to meet. Although the quality of services maybe better in fee levying high income countries inability to afford those services make the quality factor irrelevant.
Better mental health is one of the main advantages of being poor – as a statistic poor countries have much less percentage of mental health disorders than the rich.
Entrepreneurship develops better in places that suffer chronic poverty as the competition to strive for a place in the sun and win much needed seed capital is great. This results in a higher degree of innovation and creativity in poor communities and among minorities.
Reduced resources consumption – poor societies consume less resources than wealthy communities as they have to get on by producing more from less – therefore productivity of factors is greater. Further, the carbon footprint of poorer communities is much smaller than wealthier counterparts.
Pollution is one of the biggest problems faced by rich countries as they produce more and more goods that cannot be easily recycled and are not biodegradable. Further, the  electricity and fuel required by rich countries are not sustainable by diminishing fossil fuels that pollute.
Conspicuous consumption – there has been and continues to be a backlash against the wealthy lifestyles of certain individuals whose income earned does not even remotely match their contribution to the economy e.g. investment bankers – the government needs to reduce conspicuous consumption of luxury goods by increasing tax rates on luxury items.
Generosity – poorer people tend to empathise more with those with less and therefore will be more generous during times of plenty. As a percentage of income the poor give more in charity than wealthier people.
Inequity in the taxation system of wealthier countries as they use more indirect taxes to raise revenue – this results in the poor paying a higher net rate than the wealthy. Whereas most of the government expenditure in infrastructure and investment tend to favour facilities required by the rich. However, in poorer countries welfare economics plays a key role to ensure that people below or close to the poverty line get priority in economic decisions.
Productivity of labour in low income countries is usually greater than in more influential counterparts in wealthier nations. Productivity of economic resources is also better utilised in poorer countries as they are used to produce essentials and investment goods that further increase the gross productive capacity of the economy as a whole.
Cost of living in poorer countries is usually controlled to ensure that more people find staples affordable and the essentials of life are available to a majority of the population at a lower price point.
Long term decline – Edward Gibbon has pointed out in his "Decline and Fall of the Roman Empire" that as societies' produce more luxury goods rather than essential goods – there is a gradual tapering off in real economic growth and the benefits of development are not evenly distributed among the populous and this eventually results in social revolution.