Traditionally we used gold and silver coins for centuries in order to trade – farmers were at a time one of the wealthiest people as wheat, barley, rice and other staple food commodities were used for barter and also as mediums of exchange. Being a farmer meant that you had a license to create money!
Unfortunately we invented currency notes that were first backed by gold or some other item of value with real value. For example the sterling pound was equal to a pound of silver when it was first issued. But now the currency notes do not have any real value except what is dictated by demand and supply of that currency.
Now the world is a completely different place due to emergence of modern financial instruments such as futures and derivatives etc The latest creation from the mind of man is the crypto currency. As the name crypto implies that there is more to this type of currency that meets the at first glance.
What are a crypto currencies?
The origins of the crypto currency are mired in mystery
A cryptocurrency (or crypto currency) is digital asset designed to work as a medium of exchange that uses strong cryptography to secure financial transactions, control the creation of additional units, and verify the transfer of assets. Cryptocurrency is a kind of digital currency, virtual currency or alternative currency. Cryptocurrencies use decentralized control as opposed to centralized electronic money and central banking systems. The decentralized control of each cryptocurrency works through distributed ledger technology, typically a blockchain, that serves as a public financial transaction database. (Extracted from Wikipedia)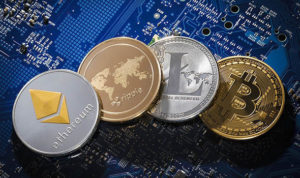 This sounds really incomprehensible but in short it means that encryption allows transactions to happen anonymously and no authority or regulator has control over the system.
Downside of crypto currencies
Lately making the news is that many exchanges that trade cryptocurrencies have been hacked. This makes the trading platforms less secure than the cryptocurrency itself. The anonymity allowed by cryptocurrencies have made them the darling of people making illegal trades such as narcotic trade and black market trading.
This makes it increasingly possible that governments may wish to apply new ways to track this type of trading and even attempt to prohibit trade in cryptocurrencies in the future.
What determines the value of cryptocurrencies? the value of crypto currency should be based on demand and supply – but the level of speculation in the market makes this difficult – the value of cryptocurrency is highly volatile as no one has yet been able to predict the growth of this new market or if it is in fact it is widely accepted or can be exchanged for traditional currency notes.
Electronic Money
I think that we will see a gradual shift away from paper money as money becomes digital and will exist only as electronic data in a computer. The downside here is that the central authority will have complete control over transactions and can freeze accounts of anyone it deems a threat to the state.
Financial Meltdown
Should we bring back the gold and silver coins? As financial markets move towards a possible meltdown more people could opt for storing wealth in gold bullion or other items with intrinsic value. I for one would recommend that savings be held as gold – it is very unlikely that gold value will be eroded if a financial meltdown takes place.